Bronze Medallion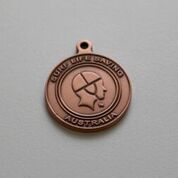 Prior to becoming a Surf Lifesaver you must complete your Bronze Medallion. Over an 8 week course, typically held with mid-week theory and weekend practical application, you will be provided with the skills and knowledge to be able to participate in Life Saving operations and join a patrol team at Avalon Beach.
At the completion of your course you will have gained a nationally recognised qualification (Certificate II in Public Safety – Aquatic Rescue). The Bronze Medallion program includes:
Safety and wellbeing
Surf awareness and skills
The human body
Resuscitation
Defibrillation and basic oxygen techniques
First aid
Communications
Radio operations
Rescue techniques
Carries and support
Beach management
You must be at least 15 years of age to complete your Bronze Medallion. Click here for Course Syllabus (Bronze Medallion). Upcoming course dates will be promoted on our Home page Newsfeed.
Bronze Medallion Fees – 2017/18 season
All training fees are paid via the Members' Portal. Click here for Members' Portal
| | | |
| --- | --- | --- |
| Bronze Medallion 18 years and above | | |
| Manual | | $40.00 |
| Mask | | $15.00 |
| Hi Vis Vest | | $30.00 |
| Training Fee | | $125.00 |
| Membership Fee | | $80.00 |
| Total Bronze Fee | | $290.00 |
| | | |
| Bronze Medallion 15 – 18 years | | |
| Manual | | $40.00 |
| Mask | | $15.00 |
| Hi Vis Vest | | $30.00 |
| Training Fee | | $125.00 |
| Membership Fee | | $0.00 |
| Total Bronze Medallion Fee | | $210.00 |
Interested in completing your Bronze Medallion? Expressions of interest to our Director of Education at [email protected]